Philadelphia Genesis Dealer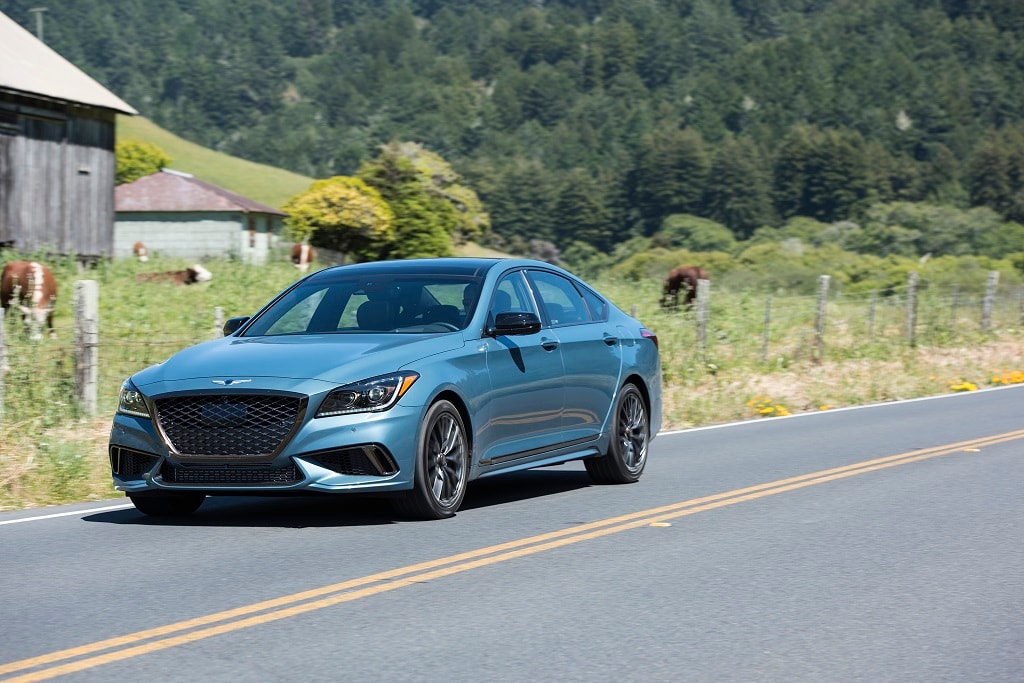 The 2018 Genesis G80 is a luxury sedan that provides a spacious interior crafted with high-quality materials. When you buy the G80 at a dealership like the Philadelphia Genesis dealer, you'll get a long list of features that come standard, including leather upholstery and a large 8-inch touchscreen interface. The G80 delivers excellent driving dynamics and great safety scores, all at a price that's lower than most competing vehicles.
The 2018 Cadillac XTS is a popular luxury sedan that offers respectable performance and a large cabin. How does the XTS fare against the G80? Read on to discover which vehicle comes out on top in our head-to-head comparison.
Price
If price is an important consideration, you'll be pleased to learn that when you purchase the 2018 Genesis G80 at a dealership such as Philadelphia Genesis, you'll save some money compared with 2018 Cadillac XTS buyers. According to Kelley Blue Book, the starting manufacturer's suggested retail price (MSRP) for the G80 is $42,745. The XTS has an MSRP that starts at $46,590. Keep in mind that the MSRP isn't the price you'll pay at the dealer. We use it here for comparison.
Powertrain
Luxury sedan owners want a powerful engine to provide quick acceleration to get up to highway speeds and to pass other vehicles safely. The 2018 Genesis G80's standard engine is a 3.8-liter V6 that generates 311 horsepower and 293 lb.-ft. of torque. The 2018 Cadillac XTS's standard 3.6-liter V6 engine can't compete with the G80. It only produces 304 hp and 264 lb.-ft. of torque. And the G80's standard V6 is connected to an eight-speed automatic transmission, while the XTS only gets a six-speed automatic. Front-wheel drive is standard on both vehicles, and all-wheel drive is available on all G80 trim levels. All-wheel drive isn't available on the XTS's base trim.
Handling
The Genesis G80 delivers excellent handling and a comfortable ride. The Cadillac XTS handles fairly well, but with its larger turning radius, drivers will find it difficult to maneuver in tight spaces.
Hands-Free Smart Trunk
Anyone who has ever tried to open the trunk while carrying a bag of groceries will appreciate the 2018 Genesis G80's standard hands-free smart trunk. When you want to open the trunk, all you have to do is stand behind the G80 for three seconds with the fob in your pocket or purse and the trunk opens automatically. This helpful feature isn't available on the Cadillac XTS.
Warranty
The Genesis G80's warranty is much more extensive than that of the Cadillac XTS. The G80 gets a 5-year/60,000-mile basic warranty and a 10-year/100,000-mile limited powertrain warranty. The XTS only gets a 4-year/50,000-mile basic warranty and a 3-year/100,000-mile limited powertrain warranty. Additionally, the Genesis G80's warranty comes with Genesis Service Valet, which is free for 3 years or 36,000 miles. If your car needs servicing, Genesis will pick up your vehicle at your location, send a courtesy replacement and return the vehicle to you when it's ready. This type of warranty service isn't available with the Cadillac XTS.
Our Conclusion
The 2018 Genesis G80 and the 2018 Cadillac XTS are great vehicles, but when you compare the important features, the differences between the two models become obvious and the Genesis G80 emerges as the winner.p>