Philadelphia Genesis Dealer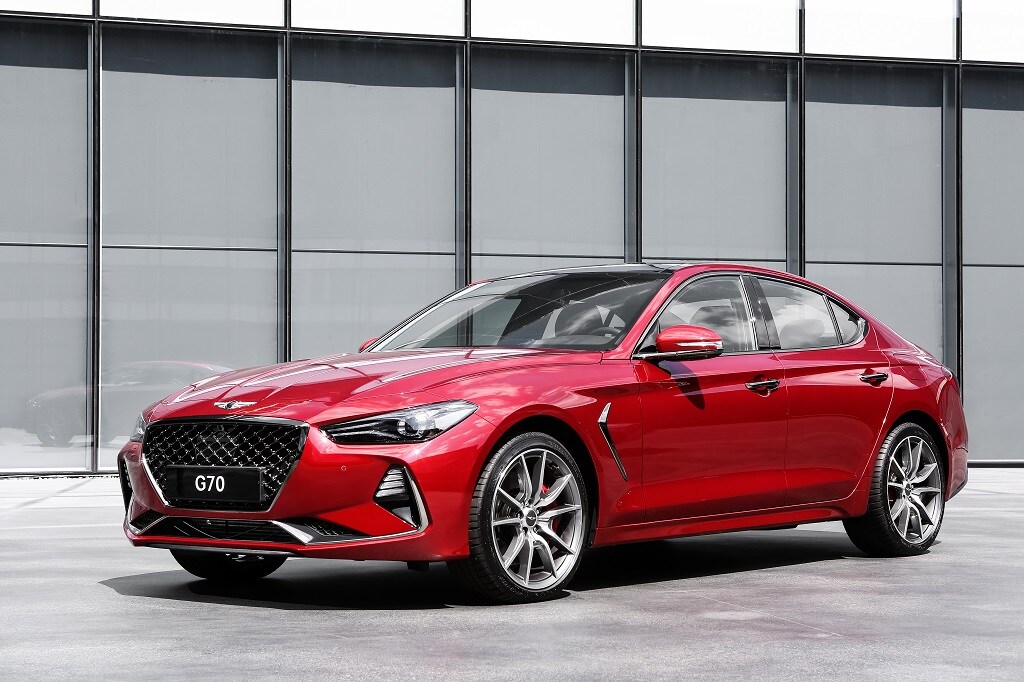 The 2019 Genesis G70 is a luxury sedan that blends a sporty driving experience with the practicality of a family sedan. The folks at the Genesis Dealer in Philadelphia told us the G70 holds its own against its European and Japanese competitors and comes with a lower price tag. As you would expect, the Genesis G70 gets a long list of standard features that are offered as options on other vehicles in its class.
The 2019 Mercedes-Benz C-Class is a luxury sedan that competes with the Genesis G70. If you're considering buying either one of these vehicles or you'd like to learn which one is best, read on as we compare them side by side to discover which one comes out on top.
Price
The 2019 Genesis G70 is provides exceptional value. The manufacturer's suggested retail price (MSRP) for the G70 starts at $34,900 while the C-Class has a starting MSRP of $41,400. It's easy to see that G70 buyers will save a lot of money compared with those who choose the C-Class. While the MSRP isn't the price you'll pay at a dealership like Genesis Philadelphia, we use this figure to provide a basis for comparison.
Transmissions
The 2019 Genesis G70 gives you two performance-tuned transmissions to choose from. While most drivers will opt for the G70's standard eight-speed automatic transmission, driving enthusiasts will want to choose the six-speed manual that comes standard on the G70 2.0T Sport trim. Unfortunately, the 2019 Mercedes-Benz C-Class doesn't offer a manual gearbox.
Seating
Both the Genesis G70 and the Mercedes-Benz C-Class can seat five passengers. The G70 has seats that are roomy, inviting and supportive, thanks to four-way lumbar adjustments. The C-Class, on the other hand, has been criticized for its lack of rear-seat legroom. Additionally, the G70 with the V6 engine has torso bolsters that become more snug when the driver activates Sport mode. You won't find this feature on the C-Class.
Safety Features
The 2019 Genesis G70 comes with a number of standard active safety features, including adaptive cruise control with stop-and-go capability, lane keep assist and blind spot monitoring. Some upper trim levels get standard front and rear parking sensors, a head-up display and a surround-view monitor. You'll be surprised to learn that none of these features come standard on the 2019 Mercedes-Benz C-class. They're all only available as more expensive options.
Warranty
G70 buyers are glad to know Genesis stands fully behind its vehicles, with one of the best warranties in the automotive business. The Genesis G70 comes with a 5-year/60,000-mile basic warranty and a 10-year/100,000-mile powertrain warranty. Compare this with the Mercedes-Benz C-Class's 4-year/50,000-mile basic warranty and 4-year/50,000-mile powertrain warranty. What's more, the Genesis G7 includes Genesis Service Valet, which is complimentary for 3 years or 36,000 miles. If your Genesis needs servicing, the dealer will come to your location, pick up your car, send over a replacement vehicle and return your car when service has been completed. You won't find a comparable service offered by Mercedes-Benz.
Our Conclusion
The 2019 Mercedes-Benz C-Class is a good vehicle, but it just doesn't measure up the new 2019 Genesis G70. The G70 is more affordable, includes a manual transmission, has more standard safety features and comes with a warranty the C-Class can't beat. We declare the G70 the winner.