Glassboro Genesis Dealer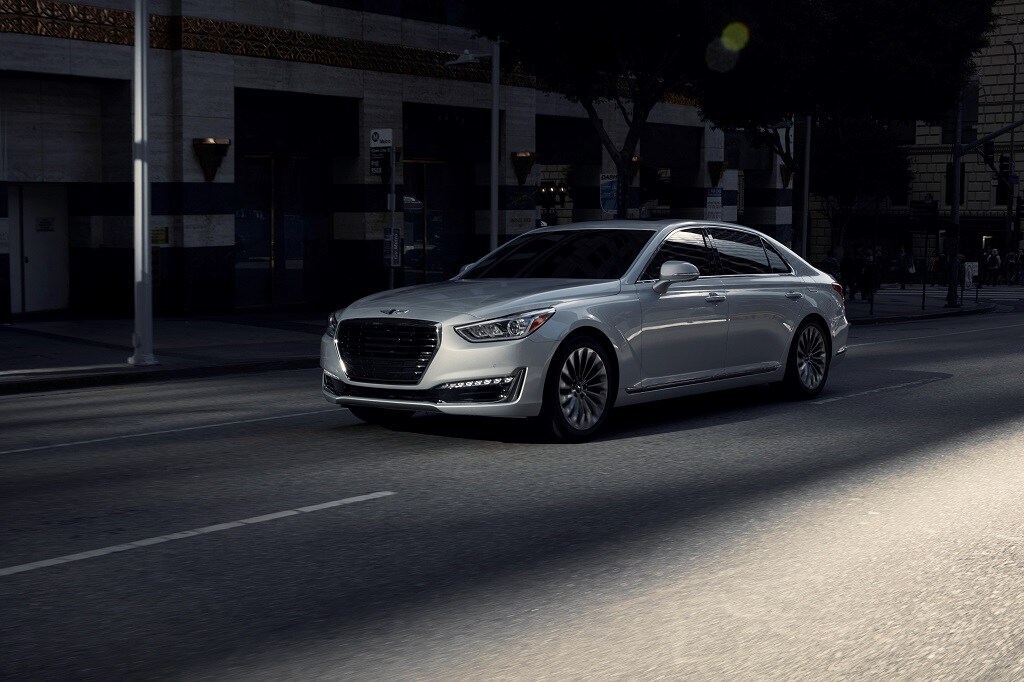 When visiting the Genesis dealer in Glassboro, you'll be able to test drive the 2019 Genesis G90. This flagship luxury sedan's feature-packed interior and lengthy warranty help make it a standout value. You may also be considering buying a 2019 Kia K900, which rides on the same platform as the Genesis G90. Let's take a closer look at how these cars compare.
Warranty
Whether you choose the 2019 Genesis G90 or the 2019 Kia K900, you'll benefit from a 10-year/100,000-mile powertrain warranty. According to Genesis Glassboro, a 7-year/unlimited-mile corrosion warranty gives the G90 a big advantage. Kia's corrosion warranty only provides 5 years/100,000 miles of protection.
Performance
Both of these cars come standard with the same turbocharged 3.3-liter V6 engine. It pushes out a solid 365 horsepower and 376 lb-ft of torque. Power is sent to the wheels via an eight-speed automatic transmission. Despite the Kia K900 having a similar powertrain, only the Genesis G90 offers an engine upgrade. Under the hood of the G90 5.0 Ultimate rests a more potent V8 engine, which generates 420 horsepower and 383 lb-ft of torque. Aside from the V8 engine's extra punch, it also has a throatier sound.
Fuel Tank
If you plan to do a lot of traveling, you'll grow to appreciate the G90's larger fuel tank. It can hold 21.9 gallons of fuel. Kia equips the K900 with a smaller fuel tank, which has a 19.8-gallon capacity.
Interior Room
Like the 2019 Genesis G90, the 2019 Kia K900 has a full-size interior. However, there's even more space inside the new G90. While the G90 boasts a total passenger volume of 113.2 cubic feet, the K900 only has a passenger volume of 110.3 cubic feet. Folks sitting in the backseat will especially appreciate the G90's extra 1.2 inches of legroom.
Features
While the 2019 Kia K900 is a luxurious ride, a greater number of premium features are found in the 2019 Genesis G90. You'll enjoy the G90's standard 22-way power-adjustable driver's seat, which outclasses the K900's 20-way power-adjustable driver's seat. The G90's available rear-seat entertainment system is another amenity that's not offered on the K900. It includes twin 10.3-inch HD screens, which allow for movie watching and video game play.
Appearance
Of these two luxury sedans, the 2019 Genesis G90 has the more upscale appearance. When doing a side-by-side comparison, you'll immediately notice the G90's bolder front grille. A more refined rear fascia also helps the G90 to stand apart from the K900. Because of the G90's longer body, it has an even more commanding road presence.
Safety
Several valuable accident-avoidance technologies come standard on these sedans, including automatic emergency braking and driver attention monitoring. However, only the 2019 Genesis G90 was chosen as a Top Safety Pick+ by the IIHS. This organization has yet to crash test the 2019 Kia K900.
Our Take
While the 2019 Kia K900 is a nice luxury sedan, it's a notch below the 2019 Genesis G90 in several important categories.